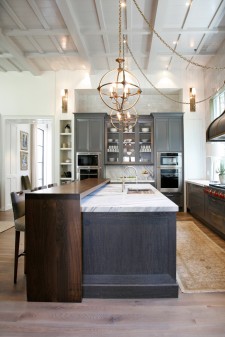 Atlanta-based Construction Resources partners with K&B marketing agency for strategic plans
ATLANTA, August 23, 2017 (Newswire.com) - Construction Resources, LLC, an Atlanta-based family of design and construction businesses, has announced its plan to further integrate all of its independently-operated entities in the Southeast. Marqet Group, a Houston-based agency will support the brand integration and develop 360° programs to promote the company's innate values: design, service and heritage.
Construction Resources currently offers over 60 nationally-recognized brands across nine product categories and plans to expand their full product offering and services to all their locations in the near future. The company includes established brands such as Colonial Lighting, Sewell Appliance, Atlanta Kitchen, Atlanta Glass & Mirror, Florida Bath and Surfaces, ARD, National Stoneworks and CR Home. Its broad portfolio of products, design and project management services caters to trade and consumer audiences for home and commercial spaces, with a focus on kitchen and bath areas. Their plans for integration will gradually introduce countertops, appliances, lighting, flooring and more through its multiple locations across four states. This strategy will help the company facilitate the design, sourcing and project management process for all customer segments.
As part of our expansion model, we are bringing a complete offering of products and services to our distinctive audiences, with the goal of easing the design process and truly creating a one-stop resource.

Mitch Hires, CEO Construction Resources
"Our company has been the trusted partner of many design and building professionals, as well as homeowners, over the last five decades," Mitch Hires, CEO of Construction Resources said. "As part of our expansion model, we are bringing a complete offering of products and services to our distinctive audiences, with the goal of easing the design process and truly creating a one-stop resource," he added.
Construction Resources offers both consumer and trade audiences a wide array of specialty building materials and services to facilitate the design and turnkey installation of the many products they offer through their 27 locations across Georgia, Florida, Alabama and South Carolina. For nearly 50 years, the company has been catering to various sectors of the design, construction and remodeling industry.
To support the integration process, Construction Resources has selected Marqet Group, a Houston-based marketing agency to oversee their brand alignment and further expand their consumer and trade professional outreach. With extensive experience and knowledge in the construction and surfacing industry, the agency will support the strategic business growth plans of one of Atlanta's most established design and supply companies through the integration process.
"Construction Resources is a prestigious portfolio of companies within the industry, operating businesses that have had a solid reputation with a great deal of growth potential," noted Lorenzo Marquez, founder and president of Marqet Group. "With the amount of competition in the design market, we are honored to serve as an extension of their business and support the execution of marketing initiatives that will bring to life a hub-and-spoke model for the full range of brands Construction Resources represents across their many locations," Marquez added.
Known for their design expertise, service and heritage, Construction Resources will leverage its marketing efforts under its largest subsidiary, CR Home, to build upon existing brand recognition and offering. The company will streamline segment branding for residential, commercial and multi-family to provide distinct benefits to each.
"Most of my career has been dedicated to overseeing brand expansion through avenues such as store-front openings, product launches and media partnerships," said Marquez. "I am very grateful to support Mitch and his team through their expansion process and bring my team's skillset forward delivering to the high-quality standards for which the group of businesses is known."

About Construction Resources
Construction Resources, LLC founded in 1970, provides residential and commercial builders/remodelers, as well as homeowners with a one-stop shop for their kitchen, bath and home design needs. Construction Resources offers products from multiple divisions, including CR Home Design Center, Builder Specialties, Sewell Appliance, Colonial Lighting, Atlanta Marble Mfg, Atlanta Kitchen, Atlanta Glass & Mirror, Builders Floor Covering and Tile, Florida Bath and Surfaces, National Stoneworks, ARD and CR Home of Alabama. As a provider of multiple categories of products, Construction Resources allows customers to simplify their ordering, scheduling and vendor process by dealing with just one salesperson and company. The company has full-service design centers and showroom locations in Decatur, Buckhead, Sandy Springs and Sandy Hill, GA; Santa Rosa Beach, Destin and Panama City, FL; and Birmingham, AL. For more information visit www.CRHomeUSA.com.
About Marqet Group
A Houston-based marketing agency, Marqet Group connects businesses with qualified customers and industry influencers through public relations, social media, digital, content marketing, graphic design, merchandising services and event management. The Group specializes in creating strategies that engage the appropriate audiences for trade professionals, particularly in the surfacing industry, with consumers, retailers and designers. Marqet Group was founded by Lorenzo Marquez, former Vice President of Marketing for Cosentino North America, who has 13 years of experience in the design and construction segment and has been a National Kitchen and Bath Association Board of Directors member since 2013, currently acting as the 2017 Chairman of the Board. For more information visit www.marqetgroup.com.
Media Contact:
Lorenzo Marquez
713-999-5229
lorenzom@marqetgroup.com
Source: Construction Resources, LLC
Share: